The Alabama Federation of Music Clubs sponsors annual auditions at both the junior and collegiate levels.
---
Junior Level Scholarships
(entrants not having reached the 19th birthday)
Auditions Chairman:
Jodean Tingle
Categories:
Piano
Male and Female Voice
Strings
Orchestral Winds
Handicapped Students
———————————————————————————————— 
Student Collegiate Level Scholarships and Forms

November 20, 2015
The Alabama Federation of Music Clubs will sponsor Student/Collegiate Auditions for persons in or of the state of Alabama.  In an effort to enable more students to participate and to allow for more flexibility, AFMC will be holding video auditions.
All applications must be postmarked by January 15.  The video auditions are due by March 1.
Awards categories include piano, voice, organ, strings, woodwinds, brass and percussion.
Listed below are the general rules for eligibility:
Entrants must have reached the 19th but not the 26th birthday by the application deadline (January 15) of the audition year.
Entrants must be native-born or naturalized citizens of the United States of America.
An entry fee of $30.00 must accompany the official application and be sent to the state auditions chairman (postmark deadline January 15).  The check or money order should be made payable to the Alabama Federation of Music Clubs.  No cash.  No refunds will be made.
Student membership in National Federation of Music Clubs is necessary, either through a student organization (i.e. a college/university that is a member of NFMC) OR as an individual member.  Former State winners within the age requirements are eligible to enter future auditions.  Former NFMC first place Student/Collegiate Auditions winners are ineligible.
Students of artist advisors and officers of NFMC may enter the auditions provided the advisor or officer is not involved in conducting or judging the auditions.
Click here for a printable version of the AFMC Awards poster to be hung in a prominent place.  (We encourage you to pass this information on to the faculty and students of your university in order to take advantage of the wonderful opportunity offered by these auditions.)
Also attached are all forms needed for your students to participate:
If your institution is not a current member of NFMC, we hope you will join.  This will provide your students with an organizational membership and save them from having to pay an individual membership fee.
Should you have questions or need more information, please contact us at AFMC.auditions@gmail.com.  We look forward to hearing from you.
Jan Hill, Chairman
AFMC Student/Collegiate Auditions
1503 Wellington Road, Homewood, Alabama 35209-4018
205-871-1532
Categories:
Piano
Organ
Male and Female Voice
Strings
Orchestral Winds
Brass
Percussion
---
2016 SENIOR WINNERS: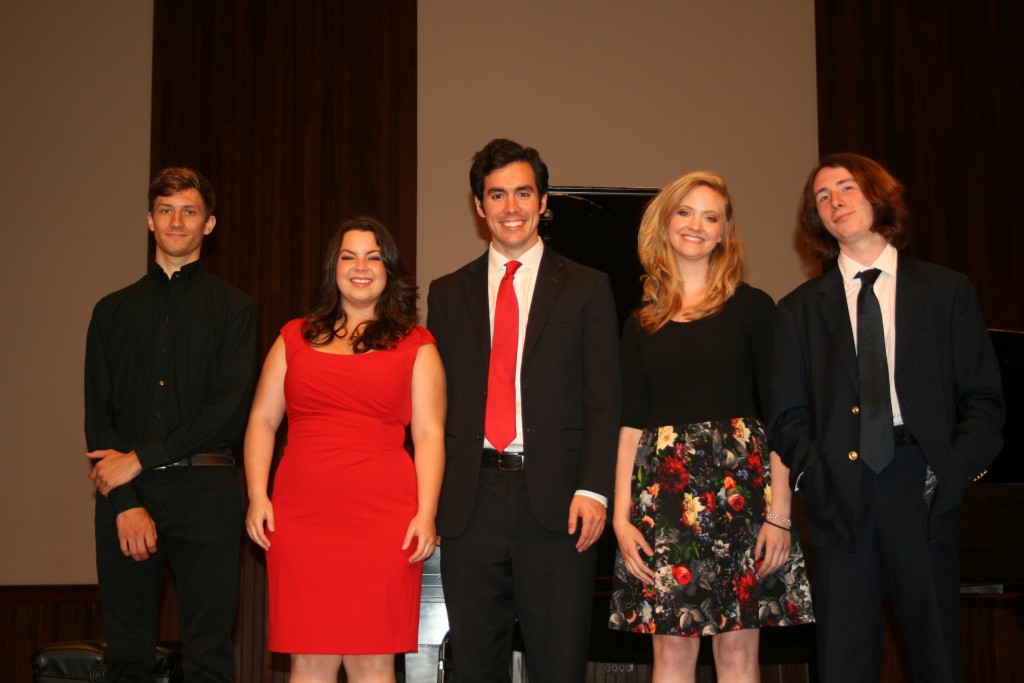 ---
2017 JUNIOR WINNERS: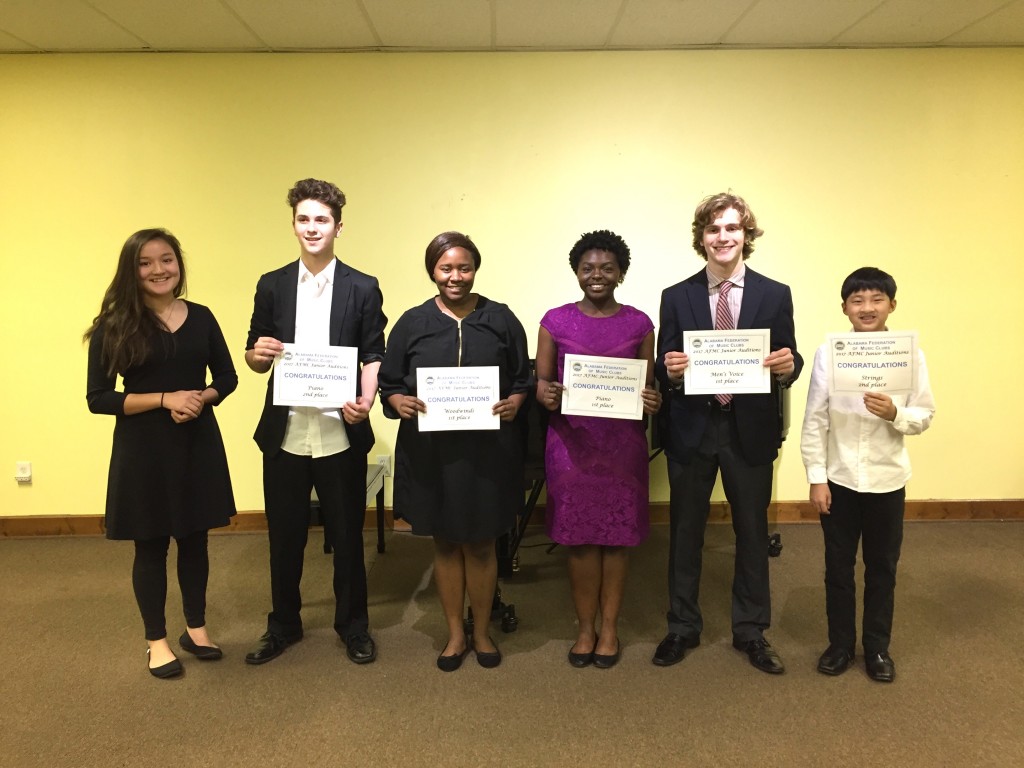 From left to right:
TBA
CLICK HERE for a List of Winners of AFMC JUNIOR AUDITIONS 2016
---
Listed below are the 2015 AFMC Student Collegiate results:
Organ – 1st Place – $1,000
Katherine Loudermilk (University of Alabama)
Man's Voice – 1st Place – $1,000
Andrew Nalley (University of Alabama)
Man's Voice – 2nd Place – $600.00
Nicholas Aguirre (University of Alabama)
Woman's Voice – 1st Place – $1,000
Joylynn Rushing (Samford University)
Woman's Voice – 2nd Place – $600
Alexandra June Brascho (Samford University)
Woman's Voice – 3rd Place – $400
Katie Thompson (Samford University)
Strings – 1st Place – $1,000
Matthew Madonia  (University of Alabama)
Strings – 2nd Place – $600
Drew Sarette (Samford University)
Woodwinds – 1st Place – $1000
Olivia Brown (Jacksonville State University)
Woodwinds – 2nd Place – $600.00
Jenny Maclay (Huntsville)
Brass – 1st Place – $1,000
Daniel Haddock (Auburn University)
Brass – 2nd Place – $600
Andrew Stadler (University of Alabama)
Piano – 1st Place – $1,000
Aleksandra Kasman (University of Alabama at Birmingham)
Piano – 2nd Place – $600
John Tootle (University of Alabama)
Piano – 3rd Place – $400
Katherine Vest (Samford University)
——————————————————————————————————————-